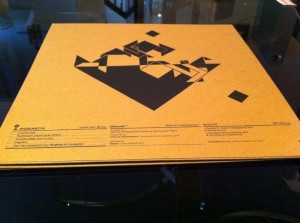 Miami based experimental kingpins Phoenecia of Schematic records team up with Windsor / Detroit's blistered beat home base Detund for the Good Man Bones EP. Pheonecia's involvement in the music industry has spanned well over 15 years and their high output of cutting edge drum programming and sound design has always retained the utmost quality. Check below to preview/pre-order these intricately designed limited edition vinyls of their latest IDM offering.






PHOENECIA – GOOD MAN BONES.
DETUND15 / SCHEMATIC 075
1. Livelihoods
2. Mushroom Cloud Over Miami
3. Smotherbeat (Iroc-Z mix)
4. Dogness
5. Two Part Invention For Bodhran & Computer
Recorded by Josh Kay & Romulo Del Castillo
Design by DMAS3â"¢
Mastered by Dietrich Schoeneman
TO PREORDER 12″ CLICK HERE.
A DETUNDâ"¢ / SCHEMATICâ"¢ joint-release
Catalog # SCH079 / DUCD02
SCHETROIT UNDERMATICâ"¢
•SUPER LIMITED PRESSING
•SCREENPRINTED ON RECYCLED BROWN RECORD SLEEVES.
DESIGNED BY DMAS3â"¢




Selected Media:


Livelihoods by phoenecia
Mushroom Cloud Over Miami by phoenecia
Two-Part Invention For Bodhran & Computer by phoenecia
PHOENECIA//////////
APPROPRIATING THEIR NAME FROM THE FIRST CULTURE OF THE OLD WORLD TO EXPLORE THE NEW, PHOENECIA, AKA JOSHUA KAY & ROMULO DEL CASTILLO, WAS INAUGURATED IN MIAMI IN 1997. THE PAIR PREVIOUSLY RECORDED UNDER THE SOUL ODDITY MONIKER, RELEASING AN ALBUM & A SERIES OF 12-INCH SINGLES FOR THE US MAJOR LABEL ASTRALWERKS. IN LATE 1996 THEY FOUNDED SCHEMATIC MUSIC COMPANY, THE INFAMOUS RECORD LABEL WHICH WOULD GO ON TO CARVE A DISTINCT NICHE IN THE LANDSCAPE OF MODERN MUSIC BY DEBUTING SCOTT HERREN (PREFUSE73, SAVATH & SAVALAS), OTTO VON SCHIRACH, RICHARD DEVINE, DINO FELIPE, PUSH BUTTON OBJECTS, SECRET FREQUENCY CREW, NICK FORTE, & HEARTS OF DARKNESSES, & RELEASING COLLABORATIONS WITH MATMOS, AUTECHRE, JAMIE LIDELL, MATTHEW HERBERT, JANDEK & GLEN VELEZ, AMONGST MANY NOTABLE OTHERS. IN 2001 THEY RELEASED A FULL-LENGTH ALBUM ENTITLED BROWNOUT, WHICH IN THE WORDS OF THE LATE TIM HASLETT WAS "PHOENECIA'S MAGNUM OPUS, THE PLACE WHERE THE IDEAS FOUND IN THE PRECEDING RECORDS ARE ALLOWED TO COME TO FULL FRUITION". IT WAS ALSO REMARKED THAT THE ALBUM WAS "CINEMATIC, BUT PRIMARILY IN THE RESPECT THAT THE TRACKS ARE HEAVILY INFLUENCED BY THE SOUND DESIGN OF FILM, AS OPPOSED TO THE SCORE". THIS MARKED A DECISIVE BREAK FROM THEIR PAST & SET THE TRAJECTORY FOR THE SOUND THEY WOULD CONTINUE TO DEVELOP OVER THE NEXT 7 YEARS, WHICH CONSISTED MAINLY OF EXHIBITIONS, FILM SOUNDTRACKS, REMIXES, COMPILATION TRACKS, & THhttp://detroitunderground.net/?p=1184&preview=trueE WORK COMPRISED IN THEIR LATEST ALBUMS ECHELON MALL & DEMISSIONS.
PHOENECIAâ"¢
PHOENECIA DISCOGS
SOUL ODDITY DISCOGS

Romulo del Castillo and Joshua Kay are Phoenicia and they emerge from their long march into the aural wilderness of Miami with Good Man Bones EP, five new sonic tapestries heavy with rhythm and rich in visual detail.
track 1. Livelihoods
"Livelihoods" initiates the set on epic proportions, sound force bleeding outwards like liquid mercury sliding across a glossy black surface with a thin, effervescent green glow ontop.
track 2. Mushroom Cloud Over Miami
"Mushroom Cloud Over Miami" is slower, the now vapourized mercury penetrating, twisting and re-aligning our neural networks as we blissfully glide along the industrial night highway sensing the smooth air of something massive and electric impregnating the sky above.
track 3. Smotherbeat
We are brought to a forest of percussion tightly interlaced with bubbling acid melodies in "Smotherbeat (Iroc-Z Mix)" — an elastic and warm yet dark slab of subtly twisting electro funk.
track 4. Dogness
Phoenicia's dark, radiant mastery of percussion warps further, driving us into "Dogness" where shuddering slices of time flash in and out of existence at rapid-fire speed, aligning us with the ever shifting hyperdimensional grid of space.
track 5. Two-Part invention for Bodhran & Computer
"Two-Part Invention For Bodhran & Computer" is superbly soft, incorporating sublime melodic tapestries which are wrapped into one another by mind shattering percussive excellence.
Good Man Bones is a five-track ep offering selections from the full-length Demissions – both made available through a unique collaboration between Detroit Underground and Schematic.