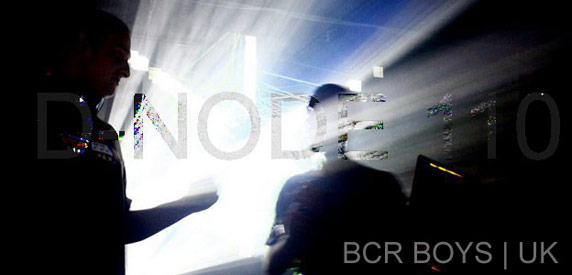 The D-Node team imports overseas talent yet again with next wave UK techno producers BCR Boys. Joseph McGeechan and Colin Bain have had a stellar year with big releases and remixes on Sleaze, Perc Trax, Synewave, and Steve Stoll's legendary Proper NYC imprint. We have been lucky enough to catch them on a short break between extensive touring and remixing schedules for a quick Q + A and live PA / DJ hybrid recording…all for your listening and viewing pleasure of course.


[audio:http://droidbehavior.com/Podcast_Sets/Random/dnode110-bcrboys.mp3]


Download Mix — See Other Podcasts
Droid: Since you guys are a production duo…can please describe your studio work flow?
We work over the net alot, this is due to our work hours, also we work together in each others house.
D: Do you DJ as well or do you prefer performing as live PA's?
We both dj, but we do the live PA also.
D: What and who are some of the clubs, musical experiences and influential DJs in Glasgow that you feel have inspired to become artists yourselves?

For Colin it was the boat parties on Loch Lomond, The Shake and The Disease warehouse parties. But mostly the Arches in its day, Slam would bring over the cream of the crop from Dj Shadow to Underground Resistance. For Joe it was also the early Pressure nights he went too, Jeff Mills,Robert Hood, British Murder Boys,and learning to dj once i discovered techno, Colin already had a really good collection and we used dj in each other houses.
D: How did you get into this music? When did you realize it played a significant role in your life?
Colin started collecting mix tapes and messing with an old ghetto blaster in the garage.Then bought decks after he collected a fair amount of 12″, Joe had early memories of Kraftwerk and like industrial sounding music, because he was into metal bands from a young age. He began DJing at 24, and soon was playing clubs in Glasgow.We both started learning how to make music, and eventually we began working together, in 2007 we began sending out songs to Perc, he was giving us good feedback. Naturally we continued to send them to Ali, then he signed Stolperfalle, soon after that we appeared on other labels, aswell as having our own ones.
D: When techno fans think of UK a few clubs come to mind…..do you have any stories to share about the following music nights? Club Lost, House of God, Pure, Sativa?
Colin saw Dave Clarke and Lottie, some other djs at Cream, Joe also saw The Chemical Brothers at cream, we both saw some great DJs in Glasgow over the years.
D: What does BCR stand for?
Backwater Community Recordings, we were named BCR Boys by Perc, we liked the name and continued to use it.
Tracklist
01 BCR BOYS – Conquest.
02 BCR BOYS – Orange Juice.
03 BCR BOYS – Phantom Call.
04 BCR BOYS – Duty Paid.
05 BCR BOYS – The Roswell Incident.
06 BCR BOYS – West and East.
07 BCR BOYS – Technnology Overload.
08 BCR BOYS – Gain.
09 BCR BOYS – Manufacturing.
10 Ken Ishi – Pounding it out – BCR BOYS Remix.
11 BCR BOYS – The Subject.
12 Tosi – Clownclass – BCR BOYS Remix.
13 Schidt Bachmann – Paraphernalia – Iformat remix.
14 BCR BOYS – Bleaching.
15 Daniel L – Sypher – Iformat remix.
16 BCR BOYS – Corrction Process.
17 BCR BOYS – Genetics.
18 DJ Danko – My Machine – BCR BOYS Remix.
19 BCR Boys – The Facility.
20 Joseph McGeechan – Hookering.