This week Droid is pleased to present a set by NYC's Anthony Parasole. A Brooklyn native inspired by grimy New York street music and the legendary Storm Raves, Parasole naturally crossed over to the side of record collecting and DJing. From 2003 to 2007 he was a buyer for the important Brooklyn record store Halcyon, and in 2008 he launched the Deconstruct Music label with Levon Vincent. Parasole is a leader in NYC's contemporary cross-polination of techno and deep house, a sensitivity reflected in the music he plays and parties he promotes. He founded the influential House-n-Home loft party series with Bryan Kasenic (Beyond/Bunker) and operates the Boundless event series as well as The Club House with DJ Jus-Ed. Recognized for his sound and skills, Parasole's been invited to play at Berghain, Shelter, and generally all over, and this year he launched a new label, The Corner, which has put out music by DJ Qu, Nor'Easter, Phil Moffa, and himself.
The set for D-Node occupies that special spot between house and techno. It goes hard, deep, and funky in ways that are different from what we normally present, so prepare to enjoy something a little different. Below the set we've collected a few comments from Parasole on a selection of tracks from the mix, and below that is the full tracklist.
[audio:http://droidbehavior.com/Podcast_Sets/Random/dnode173-parasole.mp3]
Big Strick – Armed and Dangerous (7 Days Ent.)
Big Strick's Armed and Dangerous has just the right amount of house to techno ratio, I think that and his swing really captures me in his productions.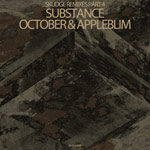 Skudge – Overture (Substance Remix) (Skudge Records)
Substance's remix of Overture is for me one of those cuts that is so tightly grooved that you get lost in that incredibly deep Piano loop!

Svengalisghost – Marathon (Long Island Electrical Systems)
Svengalisghost- "Marathon" is just one of those joints from the first time i heard it i knew that this will never leave my record bag!!!

Michael Frosinone – Unpredictable (Unpredictable)
Unpredictable captures all my elements in this track that I like in my dj sets Dark, Raw, Driving, Rhythmic & percussive for Hours!

Xperiment – Karn Evil #10 (Underworld Records, 1987)
Xperiment is a record that came out in the late '80s on the very influential New York label Underworld that carved the way for NYC House and Techno …this label was WAYYYYYY ahead of the Curve!!!

Tracklist
Big Strick -"Armed & Dangerous" (7 Days Ent.)
Bleak- "Landscape" (Sudden Drop)
Skudge-"Overture" Substance rmx (Skudge)
Henning Baer-"Folsom" (Sonic Groove)
Blawan-"Scarborough Harbour" (Black Sun Records)
Svengalisghost- "Marathon" (L.I.E.S.)
Jagdstaffel 66- "Nur Fur Die F-104 (Creme)
Green Velvet- "Killer Bees' (Cajual) [editor's note – this one's insane!]
Seldom Felt- "1" (Seldom Felt)
Marcelus-"Falcon" (Tresor)
Bruce Ivery-"B2" (Still)
Michael Frosinone- "Unpredictable" (Unpredictable)
Francis Englehardt-"Chernobyl" (Slow to Speak)
Xperiment-"Karn Evil #10" (Underworld Records)